Are you thinking about building a family house and selecting a suitable family house project?
You have come to the right place We offer a range of interesting family house projects of various shapes and sizes that are prepared according to the latest standards. Choose your dream family house from our online family house catalogue that best meets your needs and expectations.

Having trouble choosing the right look for your house project?
We offer a number of categories that can help you choose your house project at www.dream-plans.com.
The fastest search is by individual categories or by more detailed specifications, such as family house width, construction price, usable area, floor area, a family house with or without a garage, a multi-storey family house or a single-storey family house. You can also filter family house plans by construction cost. Use our comparison tool to compare all the family houses you choose and to help you choose the best family house for you.
What types of projects have we prepared for you?
BUNGALOW HOUSE PROJECTS
These family house projects are most often single-storey family houses with a gable or hip roof such as BUNGALOW 200 and BUNGALOW 201. They may have habitable attic space, such as for example BUNGALOW 31.

Some bungalow projects have been designed with a flat roof, such as BUNGALOW 166-PS and BUNGALOW 168-PS.


L-SHAPED HOUSE PROJECTS
This shape is very popular but requires a wider building plot. L-shaped projects allow the living space and bedroom area to be in separate zones.
L-shaped projects have different types of roofs, ranging from hip, gable, shed and even flat roofs. Roof shape is not fixed. The advantage of this type of house is the ability to create added privacy through proper placement of the structure on the plot. We offer a broad range of architectural designs of various sizes and widths, and with single and double garages, and of course with no garage at all. Most family houses have the entry area to the family house separate from a private terrace, where you can spend time with your family.

HOUSE PROJECTS FOR NARROW PLOTS
Do you own a narrow plot? There are type types of narrow plots, depending on how we look at them. A plot may have narrow access and be long, while another may have wide access but be narrow in the other dimension. We offer you solutions for both types of narrow plots, and we believe that you will choose the ideal one from our rich offer.
You also have to decide on the type of family house you want to choose. We also offer single-storey and multi-storey projects, as well as modern or more conventional family houses, both with and without garages. A typical example of a modern family house for a narrow plot is the multi-storey ARKADA 4 family house with a double garage.

The garage may be omitted for this family house. A very popular single-storey family house with a garage for a narrow plot is BUNGALOW 47. It is only 7 m wide and yet still offers space for a 5-6 member family and a garage.

For more family house projects for a narrow plot, use the menu on the left to sort the family houses by width or select the FAMILY HOUSES FOR A NARROW PLOT category.
MODERN FAMILY HOUSE PROJECTS
Houses with a flat roof or a shed roof in various shapes and sizes are the most common among modern houses. They remain very desirable and, of course, houses with a more classic look and even bungalows can have a modern appearance. It all depends on the owner, their approach to their construction project, and if they use a combination of modern wood, brick, or other readily available material for cladding as well as the use of other modern technologies which are increasingly trendy nowadays.

SMALL HOUSE PROJECTS
Small family houses are popular among young families and older couples looking for less demanding housing, both in terms of construction and upkeep. A small house project may be single or multi-storey and typically has a simple shape. They may also be constructed for other purposes and uses. They are commonly used as garden houses or cottages. An advantage is their smaller footprint, which leaves more of the plot for the garden and other areas. The ZEN class of family houses has family houses with footprints of less than 50 m2. Some of the tens of small family houses we offer are in the BUNGALOW class, but there are other options in the CLASSIC, COMPACT, MILLENIUM, PREMIER and the more modern TREND classes.

TWO-GENERATION FAMILY HOUSES
Two-generation family houses are a great option where two separate families live in the same family household. Most often these are for members of the same family, an older generation and a younger generation. The advantage here is that these families have separate living space and they do not interfere with each other but, if necessary, they are close to each other. These are multi-storey family houses where the bottom flat is typically used by the older generation and it is barrier-free. A typical example is the ARKADA 13 family house, which is also suitable for narrow plots. We offer a version with four flat units, the ARKADA 13 DOUBLE.

Another example is the CUBER 15 house; the top flat is larger and accommodates a multi-member family. The other flat is sometimes used as space for a business.

Constructing a two-generation family house often provides cost savings as construction and the plot are shared.
SEMI-DETACHED HOUSES
This category includes houses that may be connected by walls. We offer houses that are designed for this exact purpose, both as row houses and as semi-detached houses. Typical examples are PORTO 21 and RAD 1.

Very often builders connect two mirrored projects with a wall without windows. An example of such mirrored joining is the BUNGALOW 181 family house.

Another example of mirrored joining is the KLASSIK 156 family house.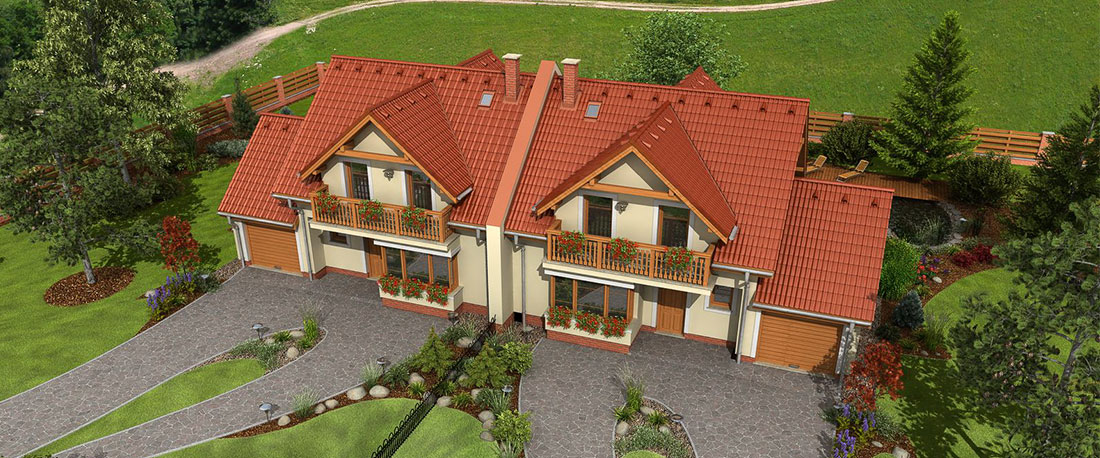 In addition to these categories, our site also has:
U-SHAPED HOUSE PROJECTS
U-shaped family houses are best for those who are looking for a private, internal space accessible from the living area and the bedrooms and in which the entire family meets. This is the ideal place for a garden barbecue, pool or hot tub. Typical examples are the ARKADA 2 and ARKADA 3 family houses.

Some BUNGALOW category houses also meet these criteria. For example BUNGALOW 217.

In the offer you will also find a house with an inner atrium, accessible from the inner living areas, which also illuminates the interior of the house. The atrium may be covered by a skylight.
A typical example of an atrium family house is ARKADA 1.

CLASSIC FAMILY HOUSES
Classic family houses include multi-storey family houses with various roof shapes. These are family houses in all size categories and shapes. The ground floor is typically only a living zone, with the bedrooms upstairs. A garage may be included or omitted. Upstairs rooms are illuminated by skylights or dormers.
The family house projects in the KLASSIK class are a classic example.