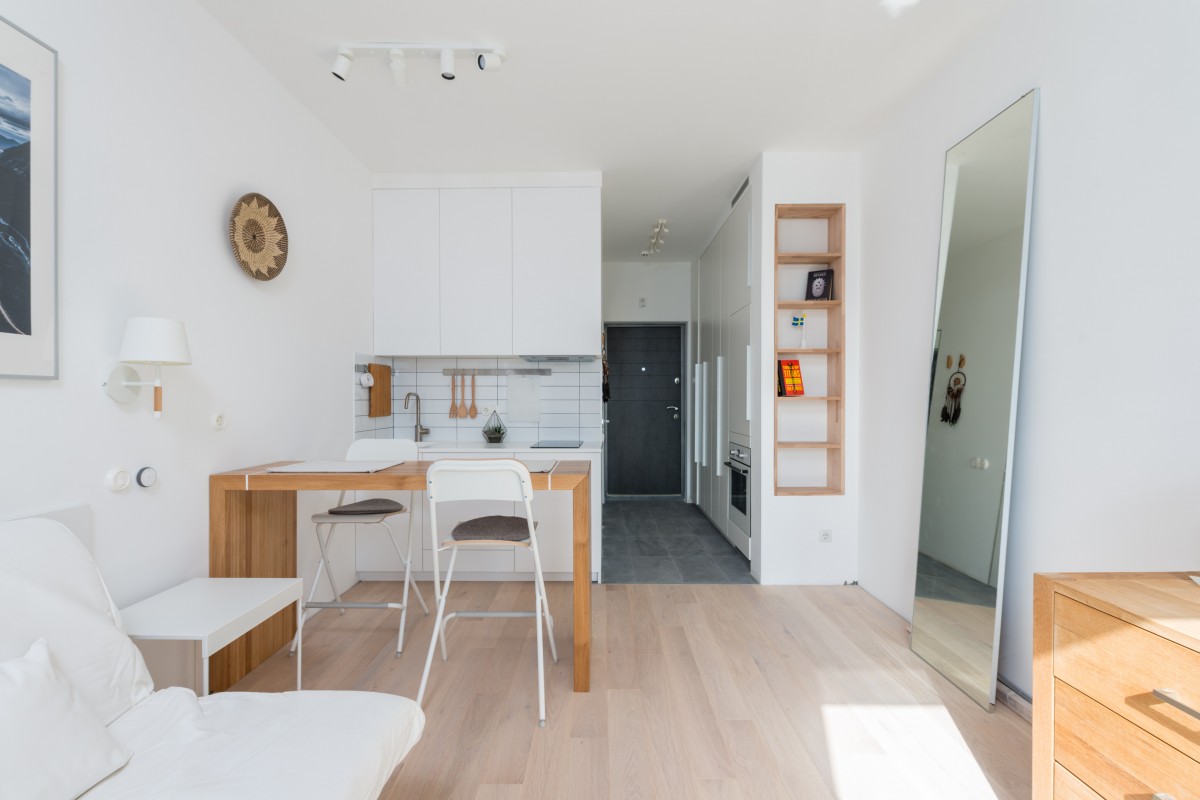 Small spaces are a common problem when it comes to interior design. Luckily, there are some easy ways to trick the eye into thinking your space is bigger than it is. Here are a few of our favorite ways to make your small space look big.
De-clutter:
The average home is getting smaller and smaller, but that doesn't mean your space has to feel cluttered and cramped. Small spaces can be challenging to design and decorate. The key to making a small space look big is to de-clutter.
Start with a clean slate. Get rid of any unnecessary clutter and give yourself a fresh start. This will help you to better assess what you need and don't need in your space.
Think vertically. When space is limited, it's important to make use of every inch. Utilize vertical storage solutions and take advantage of high ceilings. This will help to open up your space and make it feel larger.
Let in the light:
In a small space, every inch counts. You can make your space look bigger by letting in more light.
There are a few ways to do this: by using light colors on your walls, keeping your windows uncovered, and using mirrors to reflect light.
By brightening up your space, you'll make it feel more open and welcoming. Letting in the light is a simple way to give yourself a little extra breathing room.
Wallpaper one wall:
Want to make your small space look bigger? One simple way to do it is by wallpaper one wall.
This will create the illusion of a larger room, as the eye is drawn up and away from the floor.
Wallpapering just one wall is also an easy and relatively inexpensive way to give your space a quick makeover.
Not sure which wallpaper to choose? Opt for something with a light or neutral color scheme.
Or, go for a bolder look by picking a paper with a geometric or graphic print.
Whichever route you decide to take, remember that less is more when it comes to small spaces.
So don't go overboard with pattern or color – keep it simple for the best results.
Use a large mirror:
Making your small space look bigger can be as simple as adding a large mirror. Mirrors reflect light and make a room appear more open. They also trick the eye into thinking a space is larger than it is.
If you have a small entryway, place a large mirror on the wall opposite the door. This will give the illusion of a much grander space. If you don't have an entryway, you can use a large mirror in your living room or bedroom. Hang it above a console table or dresser to create the illusion of extra depth.
Not only will a large mirror make your space look bigger, but it will also add style and sophistication. Choose a frame that complements your existing décor for a cohesive look.
Create hiding spots:
In a small space, it's important to have places to hide away. Whether it's a cozy nook for reading or a hidden spot for storage, creating hiding spots can make your small space feel much bigger.
Use furniture to create divisions: Place a bookcase or an armoire in the middle of a room to create two separate areas. This will give the illusion of more space and allow you to tuck away any clutter.
Incorporate hidden storage: Ottomans with built-in storage are great for small spaces because they serve dual purposes. You can use them as extra seating or as a place to store blankets, pillows, and other household items.